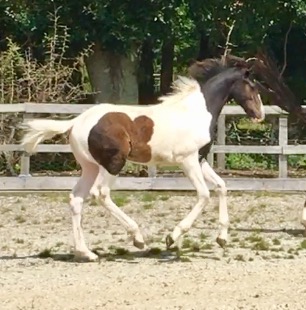 Sanderhall Dynamo (2017)
(Samaii x Licotus/Woermann)
Sanderhall Dynamo (stable name 'Max') was born on the 18th April 2017 almost 1 month late!! Needless to say we were ready for his arrival and so was his poor dam Lilly who had become the size of an elephant! This is an exceptionally correct and wonderful colt. He is tall, handsome, incredibly cheeky and outgoing, always wanting to be involved with the herd or helping with farm activities! He is a real people pleaser and easy to handle, bring in/ turn out/ pick up feet. He is going to be a very tall horse, we estimate over 17hh with a beautiful modern type body, long legs and elegant head. His markings are completely symmetrical on both sides with most of the white area being where the saddle will go. He is going to look incredible under saddle in the future!
Already admired by the Anglo European Studbook on their recent visit to us, this colt has serious stallion potential and an exciting future competition career ahead of him. We just have to decide if we can bare to part with him or not!
Max's pure Oldenburg pedigree is simply top class. It incorporates the Grand Prix stallion Licotus, a descendant of the infamous Donnerhall and combines the talented Woermann and that's all just from the dam line! Lilly was graded in 2017 with the Anglo European Studbook, achieving their top Premium broodmare award, as well as being a branded Oldenburg bred by a top Olympic standard stud.
Max's sire, Samaii was the first British-bred coloured stallion to license in Germany, as well as the first to pass a 30 day test. He was one of very few coloured stallions to be awarded Premium at his licensing and one of only four coloured stallions to be accepted into the Oldenburg Verband studbook!
Samaii was carefully selected for Lilly for one of the first Dynamo Stud foals, as he has excellent conformation with extremely good movements: a good overtracking, relaxed walk, roomy trot and uphill canter. At his first Young Horse class he was the undisputed winner of both three and four year olds. His 30 day test dressage score of 8.18 speaks for itself and includes 9.0 for both character and temperament.
Max has a lot to live up to with such exceptional parentage!
Now sold to a wonderful competition home